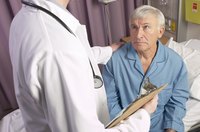 Thickening or narrowing of the heart valve occurs in patients with aortic valve stenosis. This medical condition causes reduced blood flow from the heart to the aorta and rest of the body.
Symptoms
According to the Mayo Clinic, symptoms of aortic valve stenosis include chest pain, faint feeling during exertion and fatigue. Heart palpitations and heart murmurs may occur with this condition.
Causes
Aortic valve stenosis may be caused by a congenital birth defect that narrows the aortic valve, a calcium buildup in the aortic valve or scar tissue in the aortic valve from rheumatic fever.
Complications
Patients with untreated aortic valve stenosis may develop heart failure, irregular heart rhythms or cardiac arrest.
Testing
Doctors may perform several tests to diagnose aortic valve stenosis and determine its severity, including an electrocardiogram, chest X-ray or echocardiogram.
Treatment
Aortic valve stenosis cannot be reversed with medication but doctors may prescribe drugs to control heart rhythm abnormalities. Doctors may surgically repair the aortic valve or replace a severely deformed valve.