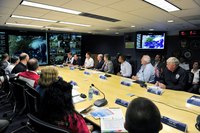 According to the United States Department of Agriculture, a mutual aid agreement is a written agreement between agencies or jurisdictions in which they agree to assist each other on request by furnishing personnel and equipment.
Purpose
According to the Federal Emergency Management Agency (FEMA), state, tribal and local governments and private nonprofit organizations often establish mutual aid agreements to provide emergency assistance to each other when disasters or emergencies occur.
Preparing an Agreement
To prepare a mutual aid agreement, the Ohio EPA recommends anticipating the types of aid needed in an emergency, preparing and agreeing to a written mutual aid strategy and practicing the strategy by conducting drills with the participants in the agreement.
Goals
According to the Ohio EPA, goals of a mutual aid agreement might include increased access to and fast delivery of critical resources during an emergency, professional solidarity in providing resources to affected communities and increased reassurance to the public that essential services will return quickly.
Components
Mutual aid agreements are generally voluntary, have uniform procedures specified, include a release of liability and have a method to account for costs and reimbursements. Other clauses can be inserted to clarify the arrangement.
Considerations
Mutual aid agreements vary depending on community needs, logistics and local legalities.