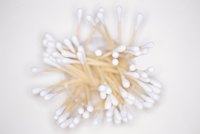 Oral swab drug tests are a type of drug screen that may be administered to determine recent drug use. All types of standardized drug test, including oral swab drug tests, test for a group of drugs known as the SAMHSA-5.
Drugs
The SAMHSA-5 includes amphetamines, marijuana, cocaine, opiates and phencyclidine, or PCP. Expanded drug tests may also test for alcohol, Ecstasy, methadone, and benzodiazepines such as Valium and Xanax.
Types
An oral swab drug test, which may also be referred to as an oral fluid test or a saliva test, is a common type of drug screen. Other types include urinalysis, blood, hair and sweat testing.
Features
In an oral swab drug test a saliva sample is examined to detect the presence of drugs or drug metabolites. Drug metabolites are a byproduct of drugs that exist in the body for a period of time after the effects of the drug have worn off.
Time Frame
Saliva tests have a short detection period and can detect recent drug use and current intoxication. According to the Department of Health and Human Services, many drugs are no longer present in the saliva after 12 to 24 hours.
Considerations
According to Erowid.org, saliva tests are more expensive to administer than a urine test, but less expensive than hair or blood testing. According to CraigMedical.com, obtaining a saliva sample is easy, relatively non-intrusive, and requires no privacy.