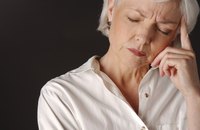 Take it from the experts: Psychology Today says that menopause makes a woman hungry. You are not imagining it. You have become ravenous and are paying the price with weight gain during menopause.
Change of Life and Insulin Resistance
When a woman reaches menopause, there is a change in the chemical composition of her body. Estrogen and progesterone are no longer in ample supply, and as a result a woman can experience a change in her appetite as well as in the shape of her body. She will start gaining weight in her abdomen, whereas she previously gained weight in her hips, arms and legs. The Centre for Menstrual Cycle and Ovulation Research reports that insulin levels tend to rise in menopausal women, causing fat to accumulate around internal organs. The high insulin levels cause an increase in appetite.
Combination of Factors
The combination of an increased appetite, not enough physical exercise and a change in the distribution of a menopausal woman's body fat can lead to weight gain and a change in body shape.
HRT
If you are undergoing hormone replacement therapy (HRT) this can cause an increase in your appetite and retention of fat, according to Yourmenopauserelief.com. In addition, the onset of depression in some menopausal women as well as mood swings can result in an increased appetite.
Metabolism
In addition to being hungrier, your metabolism has slowed down, which is going to make losing weight even more difficult. Your body is burning fewer calories than it did when you were younger.
Fight Back
Fight back by working out. Resistance and weight training are good for menopausal women. These exercises help to tone your muscles, keep the weight off and maintain strong bones. Also, examine your diet. You just can't eat like you used to.
Plunging Hormones
Scientists at the Oregon Health and Science University in Portland discovered that plunging ovarian hormones can be responsible for the 12-percent increase in the number of women who become overweight during their middle years as compared to those who become overweight in their 20s and 30s. The low levels of estrogen can cause a bigger appetite, according to CBC News, Canada.