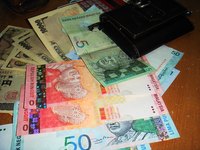 The term "bank note" is just a fancy way of saying paper money. Bank notes are promissory notes issued by a Central Bank that serves as money. Bank notes have identifying features such as country of origin, serial numbers, authorized signature, value and some, like the United States, where it was specifically made.
Country of Origin
Bank notes have a country of origin located on the bill. This country of origin label can be located anywhere on the bill and can be horizontal or vertical, depending on the country's design.
Value
The most important piece of information for a bank note is its value. The value of a banknote is printed in or near the corners of the bill, often more than once.

Serial Number
Bank notes contain traceable serial numbers as a means to trace them if stolen and to weed out counterfeit money.
Authorized Signature
The authorized signature on each bill is what makes the bill legal tender, similar to when one signs a check, it makes that piece of paper legal tender.

Printing Location
The United States has several printing locations throughout the country. Each banknote is stamped with that location's specific code. If a bill is stamped with a "G," it indicates it was printed at the Federal Reserve Bank of Chicago, if it contains an "L", it came from the Federal Reserve Bank of San Francisco. Other countries, like Cuba, simply state "National Bank of Cuba".