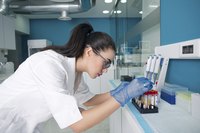 Before it had a formal name, the condition was known as "canine wasting disease." Today, it's properly known as leishmaniasis. While found worldwide, it's quite rare in the United States. As of 2015, there has been only one large outbreak in this country, which occurred in foxhounds, according to the Centers for Disease Control and Prevention. If you plan to import a dog from another country, leishmaniasis awareness is important. While the disease is zoonotic, meaning it is transmissible from animals to humans, there are no reported cases of canine to human transmission, according to the CDC.
Leishmaniasis in Dogs
The infectious agent, Leishmania infantum, initially is transmitted via a bite from a female sandfly. The sandfly ingests the parasite from an infected host, whether human, rodent or canine -- then spreads the parasite by biting another vulnerable mammal. Infected dogs can spread the disease to other canines by mating or other exchange of secretions, including a mother dog nursing her puppies. Leishmaniasis is endemic in many parts of the world, including much of South and Central America, Africa, northern China, the Mediterranean, India, the Balkans and central and southern Asia -- all areas with sandflies. Whether or not a dog is symptomatic, he still carries the parasite and can spread the disease.
Leishmaniasis Symptoms
The overwhelming majority of dogs exposed to leishmaniasis never develop symptoms. Canines who do become symptomatic are generally younger -- under age 3 -- or older -- 8 years and up. Symptoms usually appear two or more months after infection transmission. These include skin sores, skin peeling, hair loss, eye discharge and vision loss, weight loss, muscle atrophy -- the classic "canine wasting" -- vomiting, diarrhea, leg and joint swelling, excessive thirst and urination and exercise intolerance. Some dogs develop kidney failure or suffer a heart attack.
Leishmaniasis Diagnosis
Your vet might suspect leishmaniasis based on your dog's symptoms. She'll conduct a complete blood count and urinalysis. Definitive diagnosis is generally achieved by either a Western blot test or enzyme-linked immunosorbent assay test. These tests reveal the presence of antibody titers, which are present in at least 80 percent of dogs with leishmaniasis.
Leishmaniasis Treatment
There's no cure for leishmaniasis, so your vet will treat the symptoms. Outside of the U.S., the primary treatment for the disease is N-methylglucamine antimoniate, or miltefosine, neither of which are approved for canine use in this country. In the U.S., your vet might prescribe allopurinol, marketed under the trade name Zyloprim, for long-term use. Most often, allopurinal is used to treat urate bladder stones, especially in Dalmatians. Dogs with kidney or liver disease should not receive the drug. While medication might improve symptoms, it does not eliminate the parasite and dogs often suffer recurrences.