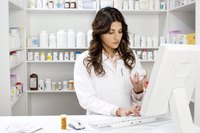 Cipro, an antibiotic medication, is used to treat certain forms of urinary tract infections. Cipro has been prescribed to over 340 million patients worldwide since 1991. Cipro can be taken in pill form or given intravenously.
Function
Cipro is classified under the group of drugs known as fluoroquinolones. Cipro fights bacteria by stopping the production of proteins needed by the bacteria to survive.
Dosage
Cipro dosage depends on the severity of the urinary tract infection. Dosage by pill form ranges from 250mg to 750mg every 12 hours. Intravenous dosage ranges from 200mg to 400mg every 12 hours or 400mg every 8 hours. Duration of treatment lasts between 7 to 14 days.
Side Effects
Cipro can cause common side effects such as nausea, vomiting, dizziness, drowsiness, blurred vision, insomnia, nightmares, nervousness, anxiousness, agitation and an increased sensitivity to sunlight.
Considerations
Cipro should be taken with a full glass of water and you should drink extra fluids daily while taking Cipro. Cipro should be taken as prescribed on a timely basis. Avoid dairy products when you take Cipro; they can make the medication less effective.
Warning
Cipro can cause swelling or tearing of a tendon in your body, especially the Achilles' tendon. Call your physician immediately and stop taking Cipro if you have sudden pain, swelling, stiffness, tenderness or movement difficulties in any of your joints.