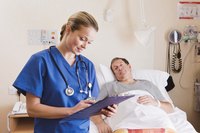 A hiatal hernia (or hiatus hernia) occurs when part of the stomach thrusts upwards into the esophageal opening in the diaphragm. Most hiatal hernias are small and don't cause any symptoms, but larger ones may cause chronic acid reflux and heartburn.
Antacids
While medications for hiatal hernia can relieve symptoms, they don't provide a permanent cure. Antacids (such as, Maalox and Rolaids) reduce acid reflux by neutralizing the acids in the stomach, but they do not treat esophageal inflammation.
H-2-Receptor Blockers
H-2-receptor blockers (such as Pepsid AC and Zanatc) slow down the production of acid in the stomach, but they do not provide rapid relief like antacids.
Proton Pump Inhibitors
Proton pump inhibitors (such as Prolisec ATC) block the production of stomach acids, which allows the inflammation in the esophagus to go down.
Surgery
In some cases, the hiatal hernia may become so large that it doesn't respond to medications. In such cases the only option is surgical reconstruction of the diaphragm.
Lifestyle
You can make some lifestyle changes to reduce the effects of hiatal hernia related symptoms: eat smaller meals, avoid lying down after meals, quit smoking, and reduce weight.