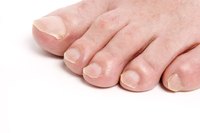 Toe fungus can be a painful and unsightly problem. Although there are over-the-counter medications to treat toe fungus, there are also home remedies with baking soda that may have a positive effect on toe fungus. For serious toe fungus problems, consult your doctor.
Toe Fungus
Toe fungus may result when at least one fungus infects your nail. According to Mayo Clinic, "a nail fungal infection may begin as a white or yellow spot under the tip of your fingernail or toenail" and "may cause your nail to discolor, thicken and develop crumbling edges."
Baking Soda
Baking soda is highly alkaline; therefore, when applied to the foot, baking soda can help bring your pH level into balance, making it more difficult for fungi and bacteria to grow.
Home Remedies
According to Skin Energizer.com, a paste of baking soda and tepid water rubbed onto the infected toenails daily will help fight the fungus.
Prevention
Sprinkle baking soda in your shoes to help "change the pH level of your feet making it less hospitable for fungal growth," according to FungusBGone.com.
Expert Insight
Alternate the baking soda paste with a vinegar soak for your toes. According to "The People's Pharmacy Guide to Home and Herbal Remedies" by Joe Graedon and Teresa Graedon, fungus does not survive well in acid. Following this regimen with sprinkled baking soda can help cleanse your toes and restore your pH level.