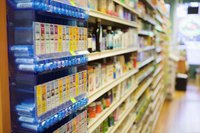 Magnesium and potassium rank as the two most abundant minerals within the human cell. They play a starring role in keeping the heart healthy, and they are integrally linked with strong muscles and steady nerves. Yet, many Americans are chronically deficient in these two minerals.
Mineral-Deficient Soil
Modern farming practices have largely stripped the soil of minerals. Consequently, even though foods appear fresh, they lack the magnesium and potassium content they once provided in years past. The book "Transdermal Magnesium Therapy" reports that the food supply has become steadily mineral poor since 1909, today offering adults only about half of what they require daily.
Food Processing Methods
Processing methods of grains and other foods often remove their magnesium and potassium content. Although many food manufacturers later fortify them with vitamins, they rarely replenish them with these two minerals.
Acidic Internal Environment
A processed, fast-food diet contributes to a chemistry imbalance within the body. For a person to stay alive, the blood must remain at a constant pH level of 7.35 to 7.45. However, acid-forming foods such as white flour, sugar, sodas, coffee and alcohol threaten to lower that number. Such an event sets off nature's backup system of pulling magnesium and potassium from cells to buffer the blood, depleting them of the nutrients they require to stay healthy.
Lack of Hydrochloric Acid
Magnesium and potassium are not easily absorbed. Even if a person chooses organic foods and prepares them in a way that minimizes nutrient depletion, he or she may lack sufficient hydrochloric acid to digest them.
Detoxification Process
The liver requires magnesium and potassium as cofactors to cleanse the body of toxic elements that enter it. Because many individuals live in extremely toxic environments, such enzymatic processes can consume a person's entire reserve of magnesium and potassium.