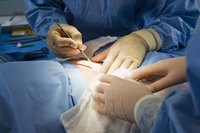 Endometrial ablasion is a surgical procedure that removes the endometrium, or the lining of the uterus, according to the American Society for Reproductive Medicine. It can be performed under the guidance of a hysteroscope, a thin telescopic device that allows the surgeon to see inside the uterus.
Reasons for the Procedure
Some women experience excessively heavy or prolonged menstrual periods that do not respond to medication. Endometrial ablasion can control the bleeding without altering the hormones or removing the uterus.
The Procedure
During the procedure, the hysteroscope is inserted into the uterus through the vagina, and the endometrial lining is destroyed with heat, freezing, or an electrical current. It is typically performed under general anesthesia.
Recovery
The most common post-procedure side effects are cramping, a watery discharge for up to 3 days, and frequent urination for the first 24 hours, according to the American Congress of Obstetricians and Gynecologists.
Outcome
Most women experience significantly lighter periods, or a complete absence of menstruation after the procedure, although the effects can take up to several months to become noticeable.
Considerations
Women who are pregnant or recently gave birth, those with uterine cancer or infection of the uterus, and women with an abnormally thin lining are not good candidates for this procedure.