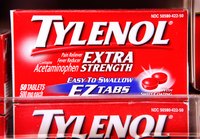 Tylenol is the brand name of the drug acetaminophen. It is an antipyretic and analgesic drug. When used in recommended dosages, Tylenol is relatively free of side effects. However, excessive doses can cause kidney failure and liver damage.
Uses
Tylenol is used to relieve pain and fever from viral infections, the common cold, arthritis and menstrual cramping. It is recommended for people who are allergic to aspirin.
Toxic Level
Regular use of large doses of Tylenol over a long period can cause liver damage. According to WebMD, the maximum dose for adults is 4,000 mg per day. Taking more than the maximum dose may cause fatal liver damage.
Cautions
Women who plan to breastfeed should consult their doctor before using Tylenol because it passes into breast milk. People with phenylketonuria (PKU) or diabetes should consult a doctor because Tylenol may contain aspartame or sugar.
Side Effects
Rare, but serious, side effects of Tylenol use include jaundice, vomiting, diarrhea, liver damage, low blood sugar, change in blood composition, coma and convulsion.
Warning
In the case of Tylenol overdose, there is no home treatment--only emergency care. An overdose can lead to liver failure and death in a few days. WedMD recommends immediately contacting an emergency room or local poison control center.