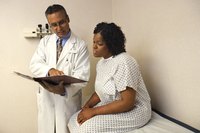 Constipation occurs when digestion is delayed and fecal elimination occurs fewer than three times per week. Constipation and lower abdominal pain often occur together as a result of gas, low fiber intake or menstrual disorders like dysmenorrhea or endometriosis.
Identification
According to National Institutes of Health, persons having fewer than three bowel movements per week are considered to be constipated. Fecal matter may be dry, small or hard and often requires straining to pass.
Causes
Common causes of constipation with lower abdominal pain include irritable bowel syndrome, inadequate fiber intake and gas. Less frequently, these symptoms can signal potentially life-threatening conditions such as lead poisoning or appendicitis.
Treatment
Treatment for constipation with lower abdominal pain depends largely on the underlying cause. Stool softeners may be recommended for immediate relief of constipation, while over-the-counter analgesics and anti-flatulence medications can help relieve abdominal pain.
Complications
According to Mayo Clinic, prolonged constipation can lead to fecal impaction, rectal prolapse and hemorrhoids. Complications of abdominal pain are dependent on its underlying cause and may include a decrease in productivity and quality of life.
Warning
In some instances, constipation with lower abdominal pain can signal a life-threatening condition such as colon cancer or intestinal obstruction. If you experience sudden or severe abdominal pain accompanied by vomiting or blood in the stool, seek immediate medical attention.