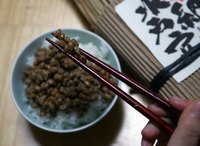 Natto has been described as "the Roquefort of soy foods"—and like the pungent cheese, natto's strong odor and flavor make it an acquired taste for many people. Yet this Japanese fermented soybean product boasts numerous health benefits.
Protects Against Cancer
Like other soy products, natto contains isoflavones that have been shown to fight breast cancer. It is particularly high in genistein, an especially powerful anti-cancer isoflavone.
Reduces Hot Flashes
Genistein also works to reduce menopausal hot flashes. In a 1998 study at the University of Ferrara (Italy), researchers showed that consuming 40 milligrams of naturally occurring genistein each day reduced hot flashes by up to 45 percent.
High in Protein
One cup of natto contains an impressive 31 grams of protein. Protein—the "building blocks of life"—is essential for building and repairing body tissue and providing energy.
Rich in Vitamins and Minerals
Natto is rich in many essential vitamins and minerals. One cup contains 84 percent of the Recommended Daily Allowance (RDA) of iron and a whopping 134 percent of the RDA of manganese. It is also a significant source of vitamin K, vitamin C, calcium and potassium.
No Cholesterol and Low Sodium
Some of the benefits of eating natto come from what it doesn't have. Natto contains no cholesterol and is low in sodium—just 12 milligrams per cup.