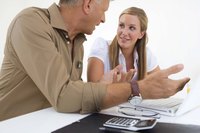 Money markets and capital markets together comprise methods of financing in the global financial system. Capital and money markets differ in time frame, type of instrument, and rate of return.
Function
Both money markets and capital markets share the common function of providing companies with capital funds.
Time Frame
One major difference between capital markets and money markets is the time frame for investment in each. Capital markets generally have investments with a maturity of greater than one year. Money markets have investments that mature over a period of less than one year.
Types of Instruments
Common instruments in the money market are treasury bills, commercial paper and certificates of deposit. Common investments in capital markets include stocks and bonds issued by companies.
Risk Level
Because of the longer time frame in the capital market, those investments tend to have a higher level of risk than investments in the money market.
Rate of Return
While investments in the capital market tend to have a higher level of risk, they also generally offer a higher rate of return. This is a common dichotomy in the investment world.