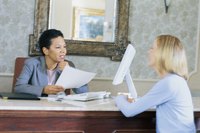 An Individual Retirement Account (IRA) is a type of personal savings account that allows you to save for retirement in a way that is advantageous to your tax situation. A Keogh (pronounced key-o) is a more complex type of retirement account for self-employed business owners, partners in a company and their employees.
Account Set Up
An IRA is set up by an individual and has nothing to do with your employer. A Keogh is set up by a business for its employees including the business owners.
Contributions
With a Keogh account, the contributions are made by the business into employees' accounts. IRA contributions are made by individuals into their own accounts. Strict limits are placed on both types of accounts, but typically more can be placed in a Keogh than in an IRA.
Investment Decisions
In both IRA and Keogh accounts, the individual decides where the funds are invested. Popular choices include mutual funds, stocks and bonds or a combination of these investing tools.
Tax Advantages of an IRA
Funds contributed to an IRA directly reduce the amount of money you owe taxes on. When you withdraw funds from the IRA, after you are at least 59 1/2 years old, you pay income taxes at whatever your tax rate is at that time.
Tax Advantages of a Keogh Account
Keogh contributions do not impact individuals' personal tax situation directly. Instead, contributions are deductible for the business. Upon retirement, withdrawals are taxed as income to the individuals.