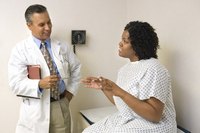 The cecum is the first part of the colon, which is part of the large intestine on the right side of the abdomen. Colonic diseases include colorectal cancer, the fourth most common cancer in the United States, according to MedlinePlus.
Colonic Diseases
Diseases of the colon include cancer, irritable bowel syndrome, polyps, diverticulitis, inflammatory bowel disease and colitis, according to MedlinePlus.
Cancer
Cancer in the cecum or other parts of the colon is signaled by blood in the stool, narrow stools, changes in bowel habits and discomfort.
Polyps
Polyps are mushroom-shaped growths on the intestinal lining that can lead to colon cancer. According to the Cleveland Clinic, detecting them and removing them before they grow and change is the best prevention.
Colitis
Colitis can be in several forms: infectious, ischemic, radiation, ulcerative and Crohn's disease. Causes of the last two forms of colitis are unknown as of 2009, but the first three are caused by infection, lack of blood flow and radiotherapy, respectively.
Colonoscopy
A colonoscopy is a method of examining the colon lining and rectum with a long, flexible tube inserted into the anus. Doctors recommend them to patients who have symptoms of colon disease, such as changes in bowel habits or bleeding. Those over 40 with family histories of colon cancer should have regular colonoscopies.