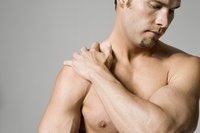 The rotator cuff consists of tendons and four muscles--supraspinatus, subscapularis, infraspinatus and teres minor--and is located in your shoulder. It connects the shoulder blade with the upper arm and keeps the head of the upper arm bone securely in its socket.
Muscle Tears
Possible causes include tears of any of the four muscles. Tears can result from trauma, overuse or simply aging. "Most patients with tears of the rotator cuff complain of difficulty sleeping on the shoulder at night," reports JointHealing.com.
Inflammation
You may have some form of inflammation in your rotator cuff. Bursitis and tendinitis in the rotator cuff are both examples of inflammation there, the former involving your bursa sand the latter your tendons. Arthritis--inflammation of the joints--is another possible cause of pain in this area.
Treatment
Rest your shoulder as much as possible. Ice it for 20 minutes every hour, and take anti-inflammatory medication like ibuprofen or naproxen sodium to decrease the pain and swelling. You may use heat pads after two days of icing.
Expert Insight
Your doctor may recommend that you get corticosteroid injection to relieve inflammation and pain. Other options include surgery to repair a rotator cuff tear, or either a partial or full arthoplasty (shoulder replacement).
Prevention/Solution
You can avoid rotator cuff pain by keeping your muscles there strong and flexible. Avoid doing too many repetitive movements over your head, as when you play tennis or paint a wall. Alway try to maintain a good posture.