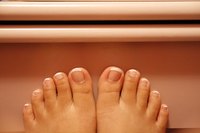 According to Dr. Kirk A. Koepsel, editor of podiatrynetwork.com., bone spurs of the toes occur most often on the little toe, although they can occur on other toes. Spurs can form on the outside of the toe next to the toenail, on the inside of the toe near the tip of the toe and on the inside of the base of the toe.
Causes
According to Koepse, the main cause of toe bone spurs is too much pressure caused by the toes pressing on one another while wearing (poorly fitted) shoes. Muscle strain in the feet from standing long periods may also be a factor in developing bone spurs in the toe.
Shoes
The best way to prevent and sometimes treat bone spurs in the toes is by wearing properly fitted shoes that give your toes plenty of room to move.
Conservative Treatments
To treat toe bone spurs, you want to remove as much pressure as possible from the bone spur. In addition to properly fitted shoes, you can use orthopedic padding in your shoes. Losing weight, if appropriate, can also reduce pressure. To relieve pain, anti-inflammatory medications or cortisone injections are sometimes an option.
Surgery
If surgery is necessary to remove spurs, the surgeon makes a small incision near the spur and smooths the bone.
Considerations
Bone spurs in the toes often cause corns, and successfully treating the corn requires getting rid of the bone spur.