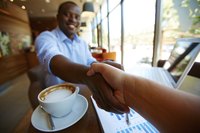 When two businesses pool their resources, they can often achieve goals that each company could not reach as individual entities. A joint venture agreement allows two companies to work together on a specific project. A teaming agreement functions as a contractor/subcontractor relationship in which a larger company subcontracts out specific tasks to smaller companies. The two types of agreements are similar but have some key differences.
Power Balance
The success of a teaming agreements depends on the relationship between the prime contractor and the subcontractor. The prime contractor provides the background of the project and the terms of the agreement, and the subcontractor follows the prime's lead. A successful joint venture relies on a balance of power and knowledge among the partners. If one partner provides more access, resources and effort than the others, the unequal nature of the relationship can cause dissension among the partners and endanger the project.
Flexibilty
Joint ventures are often more flexible than teaming agreements. A joint venture agreement can specify a limited life span for the project and only cover part of what each partner does, which limits the level of commitment and the business's exposure to liability. The primary disadvantage to the teaming agreement is that it lacks the flexibility of the joint venture structure. The subcontractor receives its approval, status updates and compensation from the prime contractor, rather than directly from the client.
Size Difference
Joint ventures are typically between two companies of similar size. These agreements allow smaller businesses to marshal their resources and focus their efforts on larger projects that may have been too big, too expensive or too inaccessible to them as individual companies. Teaming arrangements allow capable, smaller businesses to join forces with larger prime contractors to gain access to lucrative government contracts they would otherwise be denied. In joint ventures, members have equal standing, while the subcontractors in teaming agreements must follow the dictates of the larger prime contractor.
Profit Margins
The profit margins for a joint venture rely on the success and efficiency of the project. If the partners work together effectively to reduce costs and increase their efficiency, they can establish their own profit margins on the project. With teaming agreements, the prime contractor establishes the amount of revenue the subcontractor will receive. The subcontractor receives its approval, status updates and compensation from the prime contractor, rather than directly from the client. A poorly drafted teaming agreement can be less profitable and more troublesome for the subcontractors than they initially realized when signing onto the project.