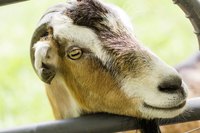 People who are lactose-intolerant don't make enough of the lactase enzyme that breaks down the lactose found in cow's milk. Thus, eating or drinking too much of a food containing lactose can cause uncomfortable gastrointestinal symptoms, such as gas, diarrhea, bloating and abdominal pain. Because of differences in the composition of goat's milk and cow's milk, some people with lactose intolerance can tolerate goat's milk better than cow's milk.
Lactose in Goat's Milk
People with lactose intolerance can't drink goat's milk with abandon. It still contains a significant amount of lactose. Each cup of goat's milk has about 9 grams of lactose, slightly less than the 12 grams found in the same amount of cow's milk. This amounts to a difference of less than a percentage point, with goat's milk containing 4.1 percent lactose and cow's milk containing 4.7 percent, so the advantage of goat's milk over cow's milk for people with this condition is relatively small.
Amount of Lactose Tolerated
Different lactose-intolerant people can tolerate different amounts of lactose without experiencing adverse effects. Most people with lactose intolerance can consume small amounts of lactose spread throughout the day without problems, according to the National Institute of Diabetes and Digestive and Kidney Diseases. As with cow's milk, people with lactose intolerance can add a lactase product to goat's milk to reduce the possibility of getting digestive symptoms and allow them to drink this nutritious beverage. Check with your doctor to see if such products are an option for you.