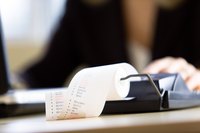 Accrual accounting is the preferred accounting method by the Financial Accounting Standards Board (FASB). Large businesses and public companies use accrual accounting because it records actual transactions.
Facts
In accrual accounting, financial transactions are recorded as they actually occur instead of waiting for cash to change hands before being recorded. Future cash inflows and outflows are recorded as receivables and payables, respectively.
Time Frame
Because accrual accounting records actual financial transactions, monthly, quarterly or annual accounting periods are used to record transactions. This creates financial reports that can be compared with previous periods to ensure profitable operations.
Benefits
Recording actual financial transactions also helps businesses at the end of their tax year. Deductions can be claimed as transactions occur, allowing companies to have more "actual" accounting deductions, even if cash has not changed hands.
Warnings
While the accrual method shows the actual income and expenses for a company, it does not accurately track the company's cash position. The statement of cash flow is used to reconcile a company's cash flow.
Expert Insight
Generally Accepted Accounting Principles (GAAP) is the leading authority for U.S. accounting guidelines. Any changes in the accrual accounting method will come from changes in GAAP standards.