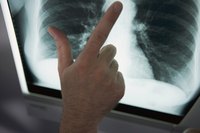 Diffuse parenchymal lung disease is a general term for a lung disorder which affects the deep part of your lung tissue. The various causes include diseases and occupational substances.
Significance
Diffuse parenchymal lung disease causes scarring and swelling in your alveoli, or air sacs, and your interstitium. As a result, you have lower levels of oxygen in your blood.
Job Causes
According to the University of Maryland Medical Center, occupational substances like asbestos, cotton dust, sand dust, and coal dust found in work sites can cause this lung disorder.
Medical Causes
Diseases like scleroderma, rheumatoid arthritis, and lupus can cause diffuse parenchymal lung disease. Other causes include medication and cigarette smoking.
Symptoms
There are various symptoms associated with this lung disease. You may experience shortness of breath, clubbing of your fingernails, and dry cough. Also, you may notice that your fingernails, skin, or lips are a bluish color.
Treatment
Treatment typically includes medication like anti-inflammatory drugs, therapy to support you lung function, and oxygen for low blood oxygen levels.