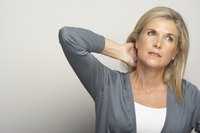 Uterine fibroids are muscular tumors that grow in the uterus. Most fibroids are benign or noncancerous. There are many symptoms of uterine fibroids, although fibroids can also be asymptomatic.
Abdominal Discomfort
Uterine fibroids can cause abdominal discomfort, including a sensation of abdominal fullness or constipation, gas or a feeling of pressure on the lower abdomen.
Menstrual Difficulties
Uterine fibroids may also cause menstrual difficulties, including pelvic cramping or pain and heavy menstrual bleeding.
Painful Intercourse
Uterine fibroids can also make sexual intercourse painful. This pain may vary according to different positions or times in the menstrual cycle.
Treatment Options
Treatment for uterine fibroids depends on age, the severity of symptoms and other factors. Treatment options include birth control pills, intrauterine devices, iron pills to prevent anemia, hormonal therapy or surgery.
Diagnosis
Uterine fibroids can be diagnosed with an ultrasound, magnetic resonance imaging (MRI) test, X-ray or CAT scan.