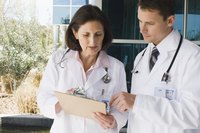 When cancer has metastasized, the outlook for the patient is generally not good. Liver metastasis means cancer has spread from one part of the body to the liver by cancer cells that have floated through the bloodstream.
Identification
The prognosis for metastasis to the liver depends largely on where the cancer originated. Cancer can spread to the liver from the breast, colon, esophagus, lung, skin, pancreas and stomach.
Significance
Prognosis also depends on how much the cancer has affected the liver. According to National Institutes of Health (NIH), in a small number of cases, surgically removing the liver can cure the cancer.
Treatments Affecting Prognosis
Certain treatments can be effective at easing the symptoms of cancer, even though most of the time they won't cure it. Treatment options include chemotherapy, surgery or radio-frequency waves to kill the tumors.
Consideration
Surgery will not cure the cancer if the liver has certain types of tumors or too many tumors.
Most Likely Prognosis
Most people with liver metastasis will eventually die from the disease. Treatment, however, can help extend lives and ease the symptoms of the cancer.