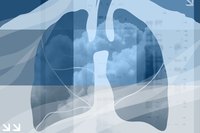 The prognosis for patients who suffer from colon cancer that has metastasized to the lungs is not favorable. According to the National Cancer Institute (NCI), only 11.3 percent of these patients will still be alive five years after they are diagnosed.
Stage IV
Cancers are classified in stages (typically I through IV), which indicate how far the malignancies have spread. The Merck Manual says that when colon cancer has reached distant body parts, such as the ovaries, liver and lungs, it is in stage IV.
Stage Comparison
In contrast to the 11.3 percent relative five-year survival rate for stage IV patients, people with localized colon cancer (stage I) have a relative five-year survival rate of 90.8 percent, according to the NCI.
Surgery
The American Cancer Society (ACS) reports that surgery will probably not get rid of stage IV colon cancer if the tumors are large and profuse. However, if the tumors are small, surgery could increase life expectancy.
Chemotherapy
Drugs, or chemotherapy, can be used to try and shrink large tumors. However, chemotherapy will not cure the disease at this late stage.
Considerations
The ACS recommends that stage IV patients ask their doctor about participating in clinical trials. These programs test the effectiveness of new treatments.