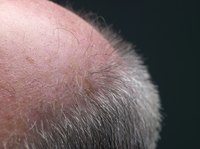 Hair loss, as well as hair breakage can be annoying, not to mention unsightly. Using satin pillowcases may help to relieve some the hair loss.
Hair Loss Causes
Hair loss, caused by a variety of factors, can be aggravated by cotton or wool pillowcases. These materials don't allow hair to easily slide across the pillow, so when you toss and turn, your hair can become stuck or tangled, causing breakage or hair loss.
Satin Fabric
Satin is a gentler material for hair while sleeping because the fibers are smoother compared to cotton or wool, according to HairFinder.com.
Satin Pillowcases
Satin pillowcases work against hair loss because they allow the hair to slide easily across the pillow while a person turns throughout the night. There is no pulling or tugging on hair when asleep, so hair loss is kept to a minimum.
Satin Scarves
A satin scarf wrapped around the head at night is a traditional way to decrease hair loss and damage.
Other Help
A person suffering from major hair loss or breakage that is not helped by using a satin pillowcase or scarf should seek help from a professional, such as a doctor.