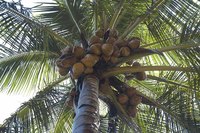 Coconut oil has great nutritional benefits and is used for cooking as well as for skin and hair care. According to Nutiva.com, coconut oil contains Vitamin E, which keeps the scalp healthy and rejuvenates hair.
Properties of Coconut Oil
Coconut oil is made from the dried meat of the coconut fruit. It solidifies at room temperature but quickly melts when applied to the scalp.
Safety of Coconut Oil
The Coconut Research Center states that coconut oil is nontoxic to humans. Because it is safe for consumption, it can be used on your baby's hair. There is no harmful effect if your baby touches his hair and consumes it by sucking on his fingers.
Benefits to the Scalp
Coconut oil is beneficial to your baby's hair as it moisturizes and helps to get rid of dandruff and cradle cap.
How to Use Coconut Oil on Hair
Take a very small amount of coconut oil and rub into the baby's scalp to maintain healthy soft hair. Use only virgin coconut oil to ensure you are not exposing the baby to harmful chemicals. According to TheVirginCoconutOil website, "virgin coconut oil does not undergo chemical refining, bleaching, or deodorizing during production."
Warning
Always store coconut oil out of reach of young children. Consuming coconut oil in large amounts can lead to stomach upsets.