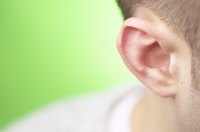 Shingles is caused by recurring infection with the varicella-zoster virus (VZV). When the virus reactivates in a nerve in the face and affects the ear, it is known as Ramsay Hunt syndrome.
Symptoms
Ramsay Hunt syndrome can lead to hearing loss, a blistering rash on the eardrum or in the mouth, vertigo and weakness of facial muscles, according to Medline Plus. The symptoms of Ramsay Hunt (and of shingles generally) occur on only one side of the body.
Identification
A diagnosis of Ramsay Hunt can be made through a physical examination and by testing for VZV in fluid from the ear or in blood, according to Mayo Clinic.
Complications
Ramsay Hunt syndrome can damage facial nerves and can lead to strange facial movements and damage to the eye and eyelid, may spread to the brain or other nerves, and may cause postherpetic neuralgia, a condition in which the pain lasts after the shingles rash has gone away, according to Mayo Clinic.
Treatments
Treatment for Ramsay Hunt includes antiviral medications, the corticosteroid prednisone, painkillers for ear and other pain, and wearing an eye patch to prevent eye damage, according to Medline Plus.
Prevention
The shingles vaccine can help protect against shingles, Ramsay Hunt syndrome and related conditions caused by VZV. The vaccine can be used on adults older than 60 years, according to Mayo Clinic.