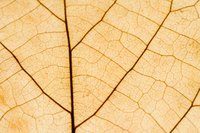 Prominent blood veins can mean a variety of things, depending on the severity and color. Some causes of prominent blood veins are inconsequential and others require medical care.
Age
According to the physician-reviewed website netdoctor.co.uk, veins become more prominent with age. Children have a layer of fat beneath the skin that dissipates with age. The skin also becomes thinner as our bodies grow older, causing veins to become more apparent.
Weight Loss
According to Dr. Lee Kirksey, a physician working with the website medhelp.org, veins can become more prominent as a result of weight loss.
Heart Issues
According to Dr. Kirksey, prominent blood veins can have roots in heart problems such as heart failure and high blood pressure. Symptoms of such issues include swelling in the legs and a shortness of breath.
Spider Veins
If your veins are red or purple and resemble the shape of a spider web, you could have spider veins. According to the American Osteopathic College of Dermatology, spider veins are not overtly harmful, though they may produce slight pain as a result of prolonged standing.
Varicose Veins
According to WebMD.com, varicose veins manifest as bulging, curved dark blue veins that appear on the surface of the skin. Varicose veins are generally not a cause for concern, but they occasionally can result from a deeper vein blockage known as deep vein thrombosis, which can require medical attention.