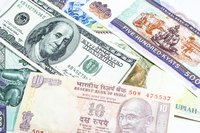 Take a look at your airline ticket and you'll see taxes and carrier-imposed fees tacked onto the base fare to arrive at the total fare that you pay. Departure taxes are nominal fees charged by the United States and other countries in order to leave the country. Departure taxes are usually included in the price of your ticket when you are in the United States, but when traveling in a foreign country, the fee is often charged and paid separately at the airport.
On Foreign Soil
Each country determines the price of its own departure tax, which varies from country to country. The fees vary from a few dollars to several hundred and are subject to change without warning. Ask your airline when booking your return flight if the country charges a departure tax and whether it is paid at the airport or is included in the price of your ticket. You can also check the International Air Transport Association's website for departure taxes charged in the country you are traveling to.
Back in the States
Departure taxes do not apply if you're traveling from the continental United States to a place within 225 miles, such as to cities in Canada or Mexico. Traveling to U.S. Territories lying outside this buffer zone -- such as Puerto Rico, Guam, American Samoa or the U.S. Virgin Islands -- requires paying departure tax. You'll also pay a reduced departure tax when traveling between the mainland and Alaska or Hawaii for the miles traveled over Canada or the Pacific Ocean.