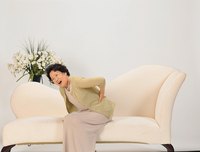 A bulging disc in your back can usually be allowed to heal on its own. If it is causing symptoms such as incontinence, your doctor can offer you treatment.
Incontinence
Incontinence occurs when you experience an involuntary loss of control over your bladder or your bowels, resulting in a release of urine or fecal matter. It can be caused by several different factors, including a bulging disc.
Bulging Disc
A bulging, or herniated disc, occurs when the center nucleus one of the intervertebral discs in your spine ruptures. The nucleus protrudes out past the outer edge of the disc and can press down on your spinal nerve, which in severe cases can cause incontinence, according to the American Academy of Orthopaedic Surgeons.
Symptoms
When a bulging disc causes incontinence, symptoms include pain in your lower back, tingling and numbness in your legs and a loss of both bowel and bladder control.
Treatments
Your incontinence will be treated by treating the bulging disc. Anti-inflammatory injections in back will help reduce swelling and relieve pressure on your spinal nerve. Surgery can be performed to remove the portion of the disc is protruding.
Considerations
Incontinence combined with the symptom of marked weakness in your legs indicates that the bulging disc is causing significant damage to your spinal nerve and you should seek treatment immediately.