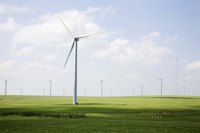 Concerns about greenhouse gas emissions and environmental impacts have led to efforts to reduce energy use. One promising method involves hybrid energy.
Definition
Hybrid energy is the combined use of two or more forms of energy resulting in a more efficient system overall.
Significance
Hybrid systems can significantly reduce overall energy use and environmental impacts, increase the efficiency and reliability of energy production and reduce the cost of providing for the end uses.
Other Benefits
Hybrid systems can create markets for renewable energy sources that might not otherwise exist. The limitations of renewable sources are reduced with back-up sources and energy storage provided in a hybrid system.
Examples
A familiar example is a hybrid vehicle, which uses both gasoline and electricity from a battery to power the vehicle, resulting in greater fuel efficiency measured in miles per gallon. Another example is a solar power plant with back-up oil or natural gas to improve reliability when adequate sunlight is not available.
Future Potential
The use of hybrid energy systems is relatively new, and scientists are researching and testing potential future applications.