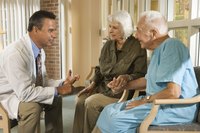 T-cell lymphoma originates in the T-lymphocytes—a type of white blood cell. It is a form on Non-Hodgkin's lymphoma (NHL). Prognosis will depend on many factors, including the stage of the disease and the patient's age.
Considerations
Several types of T-cell lymphoma exist, and statistics are only available for NHL. Your doctor will take many things into account when determining prognosis, which includes the type of T-cell lymphoma the patient has and many other factors.
Good Prognostic Factors
Certain factors improve the outlook of surviving T-cell lymphoma. They include being under 60, having stage one or two cancer, lymph node involvement that is non-existent or limited to one node, a good PS (performance status), which indicates the ability to perform daily activities, and a normal level of LDH, a serum whose levels indicate how quickly a tumor is growing.
Poor Prognostic Factors
Certain factors result in a poorer prognosis. These include being over age 60, having stage three or four cancer, having more than one lymph node involved, poor PS and high levels of LDH.
Survival Rates
Doctors use these prognostic factors to offer a prognosis. Poor prognostic factors each have a value of one point. Those in the lowest group (one or no factors) have a five-year survival rate of 75 percent, while those in the highest risk group (four or five factors) had a five-year survival of only 30 percent.
Follicular Lymphoma
If the T-cell lymphoma affects the follicles, it indicates a much slower-growing cancer, and therefore the above criteria do not apply. Factors that lead to a poorer prognosis in this case include being over age 60, having stage three or four cancer, blood hemoglobin levels below 12g/dL and elevated LDH levels. The five-year survival rate for one or no factors is 91 percent; for two factors 78 percent; and for three or more factors it is 53 percent.