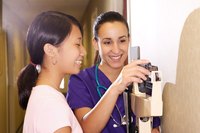 Progesterone is a sex hormone that is manufactured when ovulation occurs. Progesterone works in tandem with another hormone, estrogen, to keep a woman healthy and capable of reproduction. Progesterone and estrogen both have an impact on breast tissue and breast size.
Effects
Progesterone causes fluid retention, which can cause your breasts to swell and become bigger. Progesterone levels are at their peak mid-cycle when you ovulate. Estrogen, the other hormone, makes breast tissue grow.
Function
Progesterone prompts the breast tissues to stretch in order to make room for the increase in fluid that happens in your body at certain times during your menstrual cycle.
Factors
Progesterone also makes the milk-producing cells in your breast grow, which can result in larger breasts, according to Womenandinfants.org.
Features
Your breast consists of lobules, as well as alveoli, and these develop due to progesterone. Alveoli are hollow cavities lined with milk-secreting cells. When the alveoli join it forms groups called lobules. Each lobule has a duct that drains into the openings in the nipple.
Site
When you retain fluid in your breasts because of progesterone, the retention occurs in the subcutaneous tissues, according to Ameri-breast.com.