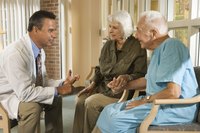 Muscle pain is a connective tissue disorder that can occur in people with diabetes. Medical experts do not really know why some diabetics are more predisposed to muscle pain than others, according to the Insulin Dependent Diabetes Trust. However, they do attribute a number of painful muscular ailments to diabetes.
Considerations
There are certain tests that can be conducted for diabetics to determine the amount of inflammation and muscular damage. These include the ESR (erythrocyte sedimentation rate) test and the creatine kinase test. The results of these tests can help doctors prescribe various treatments for a diabetic patient.
Types
Diabetics may have muscle pain or weakness from certain muscle diseases, or myopathies, that are caused by endocrine or thyroid disorders. These myopathies are believed to be caused by a nerve disorder, or neuropathy, which may affect one muscle group more than others.
Other Types
Some diabetics are prone to carpal tunnel syndrome, which causes inflammation and pain in muscle tendons of the wrist and hand. Often, these tendons exert pressure on the medial nerve, which also can cause weakness and numbness in the arm.
Effects of SMS
SMS or Stiff Man's (or Person's) Syndrome is a neurological condition that can cause painful contractions and spasms in a diabetic's muscles, especially in the back and upper legs.
Prevention/Solution
Doctors usually treat diabetic muscular pain with anti-inflammatory medications and muscle relaxants. Diabetics also can alleviate muscle pain through exercise.