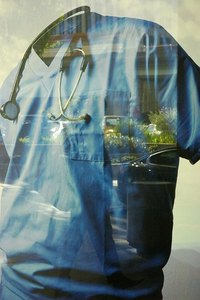 Medical scrubs are uniforms worn by doctors, nurses and hospital staff to avoid the spread of pathogens. Scrubs were designed to be durable, comfortable and easily changed. The most common style is a short-sleeved, v-neck shirt with draw-string pants.
History
Medical scrubs were first worn in the 1940s and became standard practice among surgeons in the 1950s and 1960s. Scrubs were introduced as white antiseptic gowns and developed into green matching shirt and pant sets by the 1970s. Medical scrubs have evolved in style and are widely used in the medical community.
Material
Natural and man-made materials are used in the construction of medical scrubs. A common mixture is 55 percent cotton and 45 percent polyester.
Fabric Care
Medical scrubs are to be washed warm and tumble dried.
Fashion Fact
Medical television dramas have made the wearing of scrubs more fashionable. In 2007, Katherine Heigl, an actress on the TV series "Grey's Anatomy," started her own line of medical scrubs.
Cost
Generic medical scrubs can be purchased from retailers for discount prices. Designer scrubs and scrubs made of stain-resistant materials are more expensive.