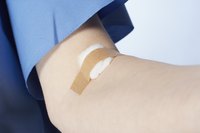 The secretions that ooze from a wound are called pus. While pus might be unsightly, it actually is a sign that your immune system is fighting off infection.
Identification
Pus is a somewhat thick substance that can range in color from clear to white to yellow.
Significance
Pus is made up of dead skin cells, white blood cells and the bacteria it is fighting. If you notice pus on a wound, it means the wound is infected.
Warning
A small amount of pus oozing from a wound is normal, but if the injury begins to secrete more and more pus it indicates that your immune system alone cannot fight the infection and medical attention is needed.
Prevention/Solution
If medical attention is required, your doctor will prescribe antibiotics to help your immune system fight infection.
Considerations
Sometimes pus can grow under the skin, creating a bulge that is known as an abscess. Pus will continue to collect and fester, which can be very painful. If you have an abscess, your doctor will need to drain it.