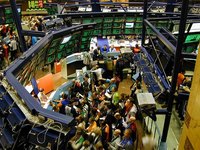 Market capitalization (or market cap for short) is a measure of the total value of a company that is listed on the stock market. The market cap of a publicly-listed company is the sum of the dollar value of all of that company's outstanding shares.
Calculating Market Cap
Consider this example: In late 2009, the hamburger chain McDonald's had about 1.08 billion shares outstanding, and the shares were trading for about $62 a share. The market cap of McDonald's is calculated by multiplying the total number of shares (1.08 billion) with the price of each share ($62), which yields a market cap of about $67 billion.
Market Cap and Stock Indices
Market cap is a measure of a company's importance. Companies with higher market caps are given more weight in the major stock indices.
Mergers and Acquisitions
Market cap is also important in merger and acquisition activities because it sets a company's "market price." Anyone wishing to buy a company will usually have to pay its owners at least the value of the company's market cap.
Fun Fact
Investors classify companies according to their market caps, with the most common three classifications being large-cap, mid-cap, and small-cap.
Warning
While market cap is a measure of a company's total worth, it is not a measure of a company's future performance. So a large-cap company is not necessarily a "better" investment than a small-cap company and vice versa.