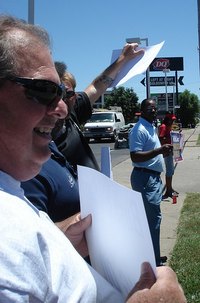 Organized labor in America has been in steady decline for decades. According to a story in the Jan. 29, 2009, edition of The Washington Post, union membership has fallen from nearly a third of the nation's work force in the 1950s to a mere 12.4 percent in 2008. There are many complex reasons for this precipitous decline and the reasons given depend largely upon whom you ask.
Unions and Globalization
In a 2005 "Voice of America" interview, economist Jared Bernstein points to business' belief that high union wages and benefits put American companies at a disadvantage in the global marketplace.
History
Bernstein also points to the 1982 Professional Air Traffic Controllers Organization strike when then-President Reagan summarily fired striking air traffic controllers. This action signaled to future presidents and politicians that taking a hard, anti-union stance was not necessarily a political liability.
Lobbying of Legislators
Businesses lobby heavily to influence legislators' votes on union matters. Organizations like the U.S. Chamber of Commerce spend millions to defeat pro-union pieces of legislation being considered by Congress.
Influence
According to a Dec. 29, 2009, story in "BusinessWeek," Target Corp. has included in its employee training video warnings against specific pro-union legislation. Businesses also use instructional meetings and other methods to "educate" employees about the negatives of union membership.
Negative Image
The Voice of America article also points out that American unions have suffered from an image of widespread corruption since the 1930s, making the public less supportive of unions. In addition, hard-line tactics used by unions to win contracts in the past have contributed to unions' overall, negative public image.
Illegal Immigration
Bernstein also blames the influx of illegal immigration for the detrimental effect it has had on wages for union and non-union workers alike, making union organization difficult in many industries.