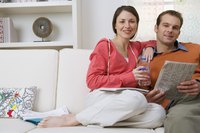 Market capitalization and revenue are two key metrics stock investors will consider before buying stocks of public companies. In addition, dividing market capitalization by revenue will provide a further stock valuation metric, which can provide additional data. Like all stock valuation metrics, however, these figures have important limitations you must be aware of.
Market Cap
Market capitalization, or more colloquially market cap, equals the price of an individual share multiplied by the number of outstanding shares. Both figures are listed in popular finance portals, such as Yahoo! or Google Finance. Furthermore, these portals will usually also list market cap, thus eliminating the need to multiply two figures. Market cap is the amount of money an investor would have to put up to purchase the entire corporation, since this is how much money it would cost to purchase all shares in circulation. When the company issues additional shares or the share price climbs, market cap will increase. Declines in share price or number of shares outstanding will depress market cap.
Revenue
Revenue, which is the same as net sales, is simply the amount of money the corporation took in during a specific time frame. Revenue equals sales minus returns and discounts. While market cap is a snapshot on a specific date, revenue figures depend on the period in consideration and must come with a beginning and end date to be meaningful. Quarterly revenue covers three months and could be the money the company took in, say, from January 1 to March 31 of a particular year.
Market Cap-to-Revenue Ratio
Investors often divide share price by the profit of the business per share. The resulting figure is known as the price-to-earnings, or PE ratio. However, not all corporations are profitable. In such cases, dividing the company's market capitalization by its revenue will provide an alternative measure. You should not directly compare a profitable company's PE ratio to a money-losing firm's market cap-to-revenue ratio. However, when picking among unprofitable corporations, the market cap-to-revenue ratio is a useful metric. Remember that losing money shouldn't disqualify a company's stock from an investment portfolio. Many growing businesses lose money for several years before turning in a profit.
Limitations
Unusual circumstances can throw off any financial metric. Revenue can be skewed due to such reasons as a blizzard that blocks access to stores or a fire in a warehouse. Market cap is directly proportional to stock price, and a sudden market crash that drags down the prices of essentially all shares in the marketplace can unfairly depress market capitalization. Naturally, the market cap-to-revenue ratio is sensitive to all factors that can disrupt either metric. Therefore, you should never buy or sell stocks based on a few metrics alone. Instead, read the company's annual report and, at least, the recent news reports about the business.