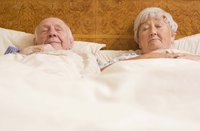 While asleep, it's not abnormal to toss and turn. For many people, however, including children and adults, sleep is a time of much activity. There are a variety of disruptive sleep disorders that can cause a person to thrash, walk, and even act out violently towards himself or herself or another person. Sleep experts have yet to pinpoint the cause of these sleep disorders.
Periodic Limb Movement Disorder (PLMD)
People with PLMD may experience cramping, twitching and involuntary jerking of the legs about five times an hour. PLMD is seen in patients with kidney disease, rheumatoid arthritis, pregnancy, or circulatory problems, according to the Web site Talk About Sleep, an advocacy organization for the study of sleep.
Disruptive Sleep Disorders
Sleepwalking, teeth grinding, and other physical acts while asleep are known as parasomnias, a term used to describe a variety of disruptive sleep disorders. Parasomnias are known to manifest at any point in the sleep cycle. According to the Sleep Foundation, this disorder tends to be genetic or can be cause by a brain disorder, sleep apnea or medication.
Sleepwalking
Sleepwalking, also known as somnambulism, involves performing physical movements while asleep, which may or may not result in the person actually getting out of bed. Causes can be attributed to fatigue, anxiety and, in the case of adults, mental disorders. Sleepwalking can occur at any age and is known to run in families.
Night Terrors
Night terrors, more common in children than adults, can cause sleepwalking, thrashing, increased blood pressure and arousal. Typically, the child will have no recollection of what caused the episode.
REM Sleep Behavior
REM sleep behavior is similar to night terrors, but is more common in middle-aged adults and the elderly. It can involve violent behavior, self-injury, and injury to the bed partner. According to the National Sleep Foundation, about a third of those with this disorder also have some type of neurological disease.