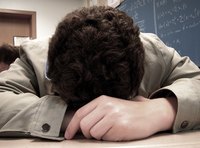 If you snore at night, or you are excessively tired the next day, you may have sleep apnea. There are treatments available for sleep apnea, and two of those are the CPAP and APAP machines.
Sleep Apnea
Obstructive sleep apnea is the most common type of sleep apnea. This is when your airway gets blocked, and you stop breathing in your sleep. Sometimes, your breathing can stop for a minute or more, according to the American Sleep Apnea Association.
CPAP Machines
Continuous positive airway pressure or CPAP, is a machine that sends pressurized air while you sleep, according to Medline Plus. This air will keep your windpipe open, and will stop episodes of not breathing.
APAP Machines
Auto adjusting positive airway pressure or APAP is a machine that will adjust the amount of pressure you get, and will deliver the least amount of air possible. The pressure is designed to increase if you are having an episode of apnea, and will decrease when your breathing returns to normal.
The Difference Between the Two
Both of these machines require you to wear a mask that fits on your face while you sleep. APAP machines can detect when your mask is not functioning properly. APAP's are also more sensitive to changes in breathing than CPAP machines, since the air delivered by a CPAP stays the same and does not adjust.
Additional Considerations
It is not clear if APAP machines are beneficial for all patients, according to The Sleep Disorders Guide. It has also not been determined if these machines are effective in treating sleep disorders due to the different types of air pressure used.