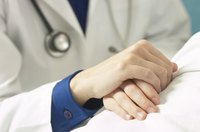 While finger and hand pain is sometimes caused by arthritis, many conditions and situations may cause non-arthritic finger and hand pain. A physician can help determine the cause and devise a treatment plan.
Nerve Problems
Possible causes of non-arthritic finger and hand pain related to nerve problems include carpal tunnel syndrome, diabetic peripheral neuropathy, thoracic outlet syndrome and ulner nerve injury.
Other Conditions
Other conditions that may cause hand and finger pain include Dupuytren's contracture, Raynaud's phenomenon, reflex sympathetic dystrophy syndrome and scapulocostal syndrome.
Injury
The hands and fingers may ache if they have been injured. Often, previously broken hands or fingers hurt from time to time for years after the injury.
Diagnosis
Tell your regular family doctor about the finger and hand pain first. He may be able to make a proper diagnosis, but most likely you will need a referral to an orthopedic specialist or a neurologist.
Treatments
Finger and hand pain can be treated with over-the-counter anti-inflammatory pain medication. Physical therapy may help some conditions. Surgery may be required to correct some problems.