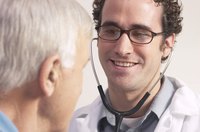 Azithromycin is one of three drugs used to treat urinary tract infections caused by chlamydia. Chlamydia is a sexually transmitted disease (STD) found in both men and women.
Urinary Tract Infections
According to Discovery Health, urinary tract infections caused by chlamydia may be treated with azithromycin, doxycycline or tetracycline. The symptoms may start to disappear within a couple of days, but it is imperative to take the entire round of medication.
Culture for STD
Urinary tract infections affect the periurethral glands in the male and the urethra in females. For suspected STD cases, a culture is obtained to determine if azithromycin is the appropriate antibiotic, according to Merck.
Medication
Brand names for azithromycin include Zithromax, Zithromax Tri-Pak, Zithromax Z-Pak and Zmax.
Instructions
According to drugs.com, Azithromycin should be taken at least one hour before a meal or two hours afterwards. Avoid antacids with aluminum or magnesium while taking this drug.
Warning
Azithromycin is similar to the antibiotic erythromycin. Notify your doctor if you are allergic to erythromycin.