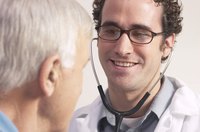 Differences between lung disorders emphysema and Chronic Obstructive Pulmonary Disease (COPD) include definitions, causes and mortality rates. COPD patients suffer from a group of lung diseases, while emphysema patients only have one disease.
Definition of Emphysema
According to the Johns Hopkins White Paper on Lung Disorders, emphysema destroys lung tissues, reduces the elasticity of the lung and leads to the collapse of airways by destroying the walls of some of the air sacs.
Definition of COPD
The term COPD describes a group of lung diseases that develop over a period of several years. These diseases block air flow and produce a chronic cough, shortness of breath and wheezing. Emphysema, asthma, chronic bronchitis and GERD most commonly comprise COPD.
Causes of Emphysema
According to the Mayo Clinic, smoking and exposure to tobacco products cause the vast majority of emphysema symptoms. The act of smoking forces 4,000 chemical irritants into the lungs. A rare protein deficiency causes approximately 1 to 2 percent of emphysema cases.
Causes of COPD
When the symptoms of at least two chronic lung diseases are found together in one individual, a diagnosis of COPD is appropriate.
COPD and Emphysema Mortality Rates
Only about 50% of COPD patients survive for ten years or more after they receive a diagnosis. The Centers for Disease Control and Prevention (CDC) reports that COPD caused 5.1% of all deaths in the United States in 2006. Mortality rates for emphysema are closely related to those of COPD.