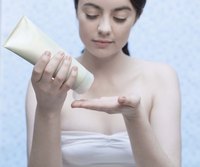 Skin care products use glycerine and glycol to keep skin moist. Both substances draw in moisture from the atmosphere and hold it in the skin. Glycerine has one chemical form, while glycol has several.
Chemical Background
Products ranging from cosmetics to antifreeze to dynamite often contain glycerine and glycol. Alternate names for glycerine and glycol include glycerin and glycerol. Many chemical variations of glycol exist. Skin care products commonly use two: propylene glycol and polypropylene glycol.
Benefits
According to an article published by the American Academy of Dermatology, entitled, "Cosmeceutical Facts and Your Skin," skin care products for dry skin use glycerine and glycol because they draw water from the atmosphere into the skin and retain it.
Considerations
Glycerine and glycol can bind with water. This makes them hygroscopic chemicals. Humectant is another name for hygroscopic chemicals.
Considerations
Humectants need high humidity levels to treat dry skin.
Safety
The Federal Food and Drug Administration (FDA) considers glycerine a safe additive. The Cosmetic Ingredient Review committee considers propylene and polypropylene glycols safe in concentrations of 50 per cent or less.