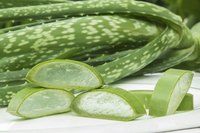 If your cat cracks open one of the rubbery, succulent leaves of an aloe vera plant and eats it, she could experience gastrointestinal upset that requires medical attention. Sensitive cats may also experience skin irritation just by coming in physical contact with the plant.
Parts of the Aloe Vera Plant
The aloe vera plant consists of three layers. The outside green, somewhat prickly fronds protect two internal layers, including a white sticky latex substance and a clear gel-like inner section. The white sap is the part of the plant that's toxic to cats. The inner gel portion is what serves in aloe vera topical products, and it is considered nontoxic -- your cat would have to consume a large quantity to get an upset stomach. But other substances in the aloe product might be toxic to your cat in small amounts.
Signs of Aloe Vera Poisoning
The part of the aloe plant that's toxic to cats tastes very bitter, which is a natural deterrent to animals. However, if your cat eats some anyway, it will act as a purgative, a substance that induces diarrhea. In cases of ongoing ingestion, your cat may also exhibit symptoms including vomiting, tremors, weight loss and even depression. Severe diarrhea can result in dehydration, which can be a medical emergency.
When to See a Vet
If your cat eats part of an aloe vera plant, call your vet. Describe the symptoms she displays and how much of the plant she consumed. He may want to see your pet right away or may have you monitor symptoms.
Veterinary Treatment
Your vet may want to take urine samples or perform blood tests to determine the level of toxicity your cat is experiencing. If she's severely dehydrated, IV fluids may be necessary to rehydrate her and make her more comfortable. If your cat develops skin irritation from touching an aloe vera plant, topical cortisone creams may be prescribed to alleviate discomfort.
Keeping Your Cat Safe
If your cat is eating your aloe vera plants, they'll likely appear chewed, broken and frayed. Put the plants out of your cat's reach if she shows an interest in them, or eliminate them from your home or garden altogether. The plant is toxic not only to cats but to dogs as well.