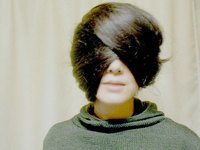 Slow-growing hair can be a nuisance for those who desire long, flowing locks. Many factors contribute to the rate of hair growth and quality of hair produced.
Normal Hair Growth
Normal, healthy hair grows roughly half an inch per month, with slightly faster growth in the summer months. Healthy hair grows an average of 6 inches each year, according to Karen Marie Shelton at HairBoutique.com.
Causes
One or more of the following factors can slow hair's growth, reports HealthCareandLife.com: poor diet, illness, certain medications, stress, aging and poor hair care practices.

Considerations
Hair that appears to be slow growing may in fact be growing at the normal rate. Chronic hair breakage can take length from the ends of the hair, making it appear to be growing slowly, says FasterHairGrowth.org.

Solutions
While some causes of slow hair growth such as age and illness are beyond your control, you can encourage hair growth in other ways. Improve your nutrition by eating a well-balanced diet. Decrease your stress levels by exercising regularly. Avoid harsh styling treatments that cause hair damage and breakage.
Considerations
Consult a physician if hair problems do not improve, as it may be a sign of an underlying medical issue.