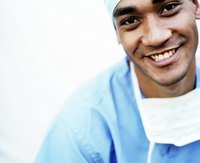 Bell's palsy is a condition in which the nerves that control the facial muscles become inflamed. It is caused by one of several members of the herpes virus family, according to the Mayo Clinic. Bell's palsy sufferers often recover in a short time.
Time Frame
Most cases of Bell's palsy, between 60 and 80 percent, clear up within a matter of weeks or months, according to the website Medlineplus.gov.
Features
The symptoms of Bell's palsy generally go away whether or not an individual receives treatment for the condition, according to the Mayo Clinic.
Considerations
Different underlying conditions may affect the recovery time. According to Medlineplus.gov, the underlying cause of the palsy should be identified.
Medications
Antiviral medications and corticosteroids should be started within one day of the development of symptoms of Bell's palsy. However, Medlineplus.gov says that antiviral medications have not been shown to speed recovery.
Warning
The symptoms of Bell's palsy sometimes become permanent, and disfigurement, abnormal movements, problems with taste, and eye damage can occur, according to Medlineplus.gov.